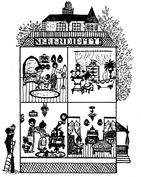 Since 1976 Serendipity Antique Shows have been bringing Dealers of interesting Antiques and wonderful collectors together 3 times a year at the Fresno Fairgrounds & other locales in Northern California & Nevada. Our Fresno Fairgrounds shows are held in the Industry-Commerce Building.
We have no shows scheduled at this time. We are concentrating on the Estate Sale portion of our Business and have put the shows on hold for the time being. We will miss seeing you all at the shows. Please come visit us at our Estate Sales that we will be listing here.
We produce many fine Estate Sales in Northern California. Please check this web site often to see what our next Estate Sale date and place will be. We always put up photos and a partial listing on our Estate Sale Page, you can also check out some of our past sales from there and
contact us if you should be interested in our Estate Liquidation Services. Just click on the Tabs above
to navigate the site!

---